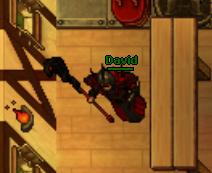 upgrader.
you: hi
David: Hey, (your name)!.
you: offer
David: Before starting make sure you are wearing the item you want to upgrade. When you are ready tell me where the item is: head, necklace, armor, right hand, left hand, legs, feet, ring or backpack.
you: bye
David: Good bye. Recommend me, if you were satisfied with my service.
Ad blocker interference detected!
Wikia is a free-to-use site that makes money from advertising. We have a modified experience for viewers using ad blockers

Wikia is not accessible if you've made further modifications. Remove the custom ad blocker rule(s) and the page will load as expected.