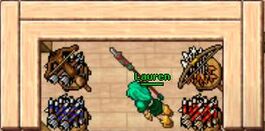 Paladin and sniper shop..
you: hi
Lauren: Hello. We have the latest ammo for paladins and snipers.
you: offer
Lauren: I sell crossbows(260gp) and bows(160gp), arrows(2gp), bolts(5gp), spears(15gp), royal spears(25gp), power bolts(25gp) and infernal bolts(150gp). I also buy crossbows(230gp) and bows(130gp).
you: bye
Lauren: Good bye! Please recommend us with your friends.
Buy / Sell
Edit
Ad blocker interference detected!
Wikia is a free-to-use site that makes money from advertising. We have a modified experience for viewers using ad blockers

Wikia is not accessible if you've made further modifications. Remove the custom ad blocker rule(s) and the page will load as expected.