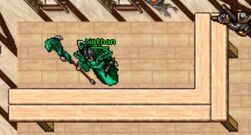 weapons and armor..
you: hi
Nathan: Hello (your name). Welcome to the weapons and armors shop.
you: offer
Nathan: I sell and buy swords, clubs, axes, armors, legs, shields, helmets and boots. I also sell scarfs(25gp) and buy platinum amulets(3k).
Buy / Sell
Edit
and loads more to be added..
all kinds of armor and melee weapons